Sunday, April 30, 2006
How to blow your tax return in 15 minutes
Well, I didn't blow the
whole
refund. A good chunk is in the bank, and since it was a fair amount this year hubby and I decided to each take a hundred bucks and go wild. Of course, I hightailed it to Borders because I had a coupon - they are very clever in doing that, giving you a good sized coupon every time you go. Addict that I am, I keep coming back.
Speaking of, if you ever get those coupons in the e-mail, you can use them toward a purchse of
Truth or Dare
, which is now shelved at Borders in the erotic romance section! AND, if you buy from Borders, scan in the receipt to me and you can get a FREE ebook! Check the
Free eBook
page of my site for details.
Anyway, as to what I bought, it's a rather eclectic mix. You would think that I read a lot of romance, and I do, yet my first love is mystery. Though I love writing erotic romance, there's a part of me that wants to try romantic suspense and mystery, and I intend to very soon. Until then, I'll be happy to enjoy:
Murder Between the Covers
by Elaine Viets. I've not read any of her books before, but I've heard good things about them. Elaine writes the Dead-End Jobs mysteries, stories set in hourly wage jobs; I believe this one is set in a bookstore. I'd hardly call that a dead-end job, though. One of my first jobs was with Barnes and Noble, and I loved it! True, I wished I could have made more money working there, but to be surrounded by books all day was an absolute dream. I got to hear Viets speak at Malice Domestic a few weeks ago, and I kick myself for not getting the book there for her to sign. Maybe next year, when I have more in my collection.
Skinny Dip
by Carl Hiaasen. With the exception of his children's books (on my TBR list), I've read and love just about everything written by Carl. Being from Florida, I can relate to many of the theme put forth in these books - the overflux of tourists, the continued destruction of the environment for the sake of progress. Besides that, the books are just damn funny. I am looking forward to the film version of
Hoot
, and I hope it's much better than
Strip Tease
- maybe the Jimmy Buffett soundtrack will help, maybe the absence of Demi Moore will, too. Who knows? I expect to take this one to the beach when I get some free time.
Hell Kat
by Vivi Anna. I've seen this one advertised all over the Net, and since I've yet to pick up a Kens Aphrodisia release...why not? The cover looks hot, the blurb is intriguing, and I suppose I need to do some recon work if I ever decide to send Kens something their way soon. I have an idea or two in the cooker, always do, but it's been a while since I've read a good romance for pleasure instead of review. I have a feeling
Hell Kat
is going to be one for the beach or for one of the many airplanes ride I'll be taking this spring and summer. One to Cali, one to Florida, one to New York. I feel so cosmopolitan lately, and I still don't own a cell phone. Imagine that.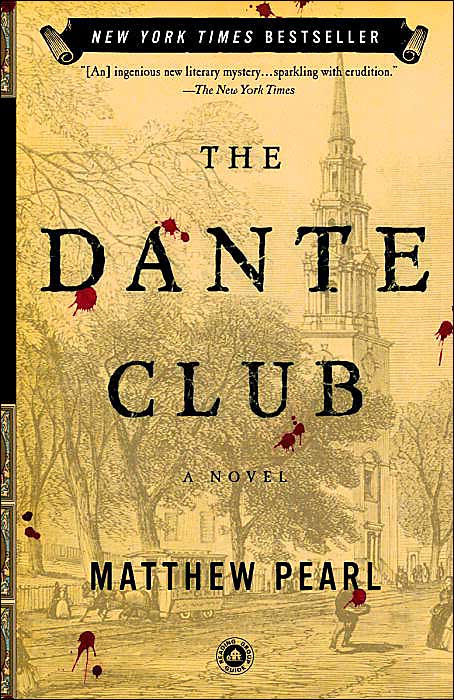 The Dante Club
by Matthew Pearl. This one I just picked up by virtue of the back cover. Let this be a lesson to authors - make the cover text count, and get your friends to strategically place your books where they will be seen. My husband happened upon this one on a display of da Vinci knock-offs. (Think I could get away with arranging
Truth or Dare
on that table? I mean, it's
like
The Da Vinci Code
, except that there's no code, or paintings, or Vatican conspiracy, etc.) This story is a mystery featuring real-life figures as sleuths, Holmes and Longfellow among others. I do enjoy books where real-life people are featured in a fictional setting, so we'll see how this one reads.
This should keep me busy until the next deadline.